Superior Microblading by the industry expert, Candice Watson
Perfect eyebrows lasting up to 3 years!
Our Superior Microblading advanced technique uses micropigmentation to implant pigment into the skin beneath the brow line to mimic individual hair strokes.
Get in touch today using the form below or contact Candice Watson using the WhatsApp button!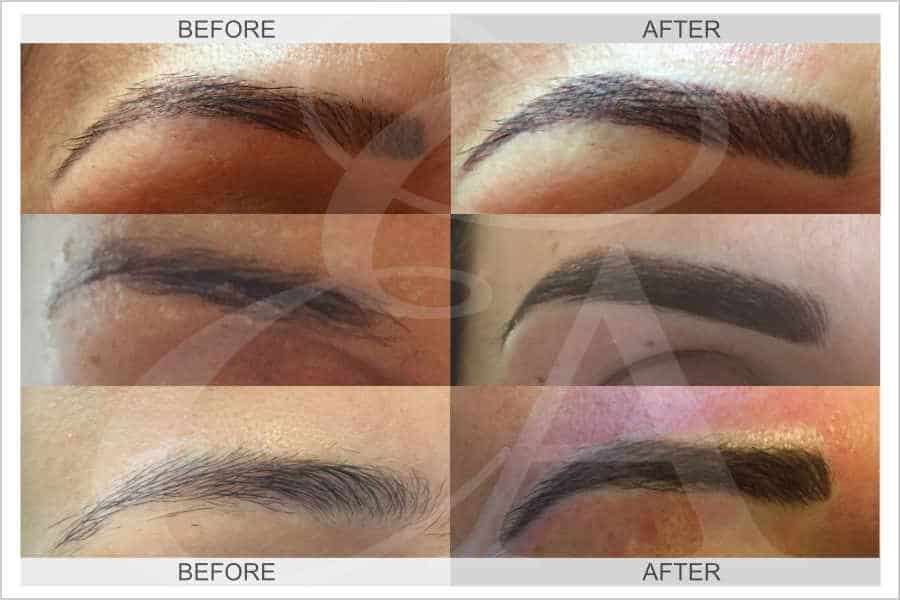 Microblading
Traditional Microblading uses a very basic method of applying pigment to the eyebrows.
A flat blade or series of needles in a single line is scraped along the skin cutting the skin in a line and pigment is wiped in the cut. This achieves a line of pigment on the skin surface similar to the look of eyebrow hair.
The cuts are repeated along the brow until the desired look and hair density is achieved.
Unfortunately, this method of cutting the skin has a likelihood of causing scarring which in time creates hardening of the skin and gives a shiny opaque look to the skin. This, of course, is not what you should be doing to your eyebrows.
Superior Microblading
Superior Microblading is THE technique for anyone who wishes to achieve perfect eyebrows that last for years and not months.
Our Superior Microblading advanced technique uses micropigmentation to implant pigment into the skin beneath the brow line to mimic individual hair strokes.
Micropigmentation uses a finely honed digital machine which powers a tailored handpiece with super fine hairstroke needles attached to precisely pierce the skin creating an exact line as a series of minute, exact dots.
Varying thicknesses of pigment and hairline is achieved by using a range of needle sizes from Micro to Broad (micro achieves finer than hairstroke pigment lines).
The process of micropigmentation is a tried and tested system of implanting pigment and is widely used for both cosmetic and medical procedures.
Which will you choose?
Candice Watson and Exclusive Aesthetic have near 30 years experience performing semi permanent makeup and medical micropigmentation to the highest level in the Middle East and internationally.
Our Superior Microblading service is designed to give you the best possible treatment at a competitive cost and in some cases, based on our research, is cheaper than the usual Microblading treatments in Dubai.
Contact us
Superior Microblading is part of Exclusive Aesthetic's Ultimate Micropigmentation range of services.
All treatments are performed at The London Centre for Aesthetic Surgery (LCAS) in Healthcare City, Dubai.
Natural Hairstroke
A very natural look using superfine needles applying individual hair strokes beneath the brow hair. Ideal for people wanting a natural eyebrow look.
The eyebrow shape is built up in layers of hair strokes to look as natural as possible. Varying colours of pigment can also be used to mimic the varying colours of your eyebrow.
This is the most natural Semi Permanent Eyebrows treatment and is a must-have treatment for anyone who would like perfect eyebrows with a natural look.
Dusting
A flush of colour similar to brow powder and shading effect.
A flush of colour is applied using a broad dusting needle to the skin beneath the brow line creating a very soft and natural smudge of colour with subtle definition to give the effect of a brow powder and a soft shading effect.
Dusting for Semi Permanent Eyebrows is one of our most popular Eyebrow treatments.
Block
Heavy filled in eyebrows – Very popular for those wanting a pronounced eyebrow with a block, fully coloured and contoured look.
The Block Semi Permanent Eyebrows technique consists of applying an outline as a line to whatever shape we advise or you request and then shading in the entire area using a circular motion. This fills in the total eyebrow shape until a total block of the area is achieved.
More than any other Semi Permanent Eyebrows technique it is essential you are happy with the shape and look because this look is very difficult to change once applied.
With our range of different looks, everyone can benefit from smudge-free semi permanent lip makeup.
Anyone with unsteady hands making applying makeup difficult
Anyone short-sighted
For people on the go with no time for applying makeup but feel more confident wearing makeup.
Anyone who is allergic to makeup or have a sensitivity to makeup.
Exclusive Aesthetic use professional micropigmentation machines and equipment to implant non-permanent pigment into the epidermis layer (upper layer) of the skin. The pigment depth is critical and directly relates to the amount of time the pigment will stay in the skin. Too deep and chances are you will get a permanent tattoo, too shallow and the pigment will only last a few months.
The correct Micropigmentation systems allow the specialist to adjust the depth on the needle. This is one of the reasons why a highly trained specialist should be the one you choose to perform a semi permanent makeup treatment. Implanting pigments at an exact depth into the epidermis allows the pigment to be naturally expelled from the skin over 2 to 3 years hence the term "semi permanent".
Candice Watson
One of the Middle East's Leading Medical Micropigmentation Experts
Candice Watson is one of the most established and trusted medical micropigmentation experts in Dubai with a happy client list spanning the entire Middle East.
30+ Years Experience
Candice Watson has over 30 years of experience performing micropigmentation procedures to the highest industry standards.
Candice has won numerous awards for her medical micropigmentation treatments throughout her career and continues to be a world leader in all aspects of micropigmentation.
Qualifications
International Health and Beauty Certification
Dawn Cragg MBE Teaching and CPD Certification
John Hashy Masters Diploma
Finishing Touches Medical Micropigmentation Master Class
Moshe Allul Diploma for HFS Scalp Micropigmentation
LCN Germany SPMU Diploma
Tunde Mehn Advanced Skills Diploma
Licensed to Practice in Dubai Healthcare City
Fellowships & Memberships
SPCP (Society of Permanent Cosmetic Professionals)
IHBC (International Health and Beauty Council)
BABTAC (British Association of Beauty Therapist and Cosmetologists)
Fully licensed to train and practice
Licensed to perform treatments and offer training courses in Dubai, UK and internationally.
Looking for a training course?
Candice Watson now offers micropigmentation training courses at various locations in the UK, Dubai and the Middle East. See our range of micropigmentation training courses HERE.
Multiple Awards Winner
We are proud to announce Exclusive Aesthetic are UAE Business Award winners for two consecutive years.
Our UAE awards include Best Specialist, Best Trainers and Best Scalp.
I wanted Microblading as lots of my friends have had it done. I found Candice online and thought I would see what Candice offered. Once Candice explained the difference between Microblading and Semi Permanent Makeup I went for semi permanent makeup. I am very happy with the results.

Nuha
Dubai
Candice is very good at Semi Permanent Makeup. I did my research online and found Candice in Healthcare City. Candice put me at ease about the stories I had heard and now I have amazing eyebrows!

Donna
Dubai
Training courses
Candice now offers several micropigmentation training courses in Dubai including Semi Permanent Makeup, Eyebrow Microblading, Medical Micropigmentation and Hair & Scalp Micropigmentation.
Training is provided through our sister company Exclusive Aesthetics Technical and Occupational Skills Training at various locations in Dubai and around the Middle East.
Appointments
Dubai appointments available Sunday through Thursday 9 am to 6 pm at the London Centre for Aesthetic Surgery (LCAS), Healthcare City, Dubai, United Arab Emirates. For UK Harley Street appointments please contact us.
Licensing
All Dubai procedures are performed under the licence of the London Centre for Aesthetic Surgery (LCAS), Healthcare City, Dubai, United Arab Emirates and conform to the highest medical standards.
We are able to expertly remove pigment from the delicate areas of the face where semi permanent makeup is applied – the eyebrows, eyelids and lips.
Click on the link for more details. REMOVALS AND CORRECTIONS