Semi Permanent Eyebrows
by award-winning Candice Watson and Exclusive Aesthetic
Perfect Eyebrows with Semi Permanent Makeup
Eyebrows play a vital part in the look of the face.
Beautifully shaped eyebrows not only accentuate your eyes, but they can also add a lift to your face, making you look youthful. Often eyebrows loose hair and shape through age or over plucking.
Semi Permanent Eyebrows uses a method called micropigmentation to implant non-permanent pigments into the epidermis layer of the skin (the outer layers).
Implanting pigment into the epidermis allows the pigment to be expelled over time hence the name, Semi Permanent Eyebrows.
Semi Permanent Eyebrows are also occasionally called eyebrow tattoo and eyebrow micropigmentation. Semi permanent eyebrows offer an effective solution for people wanting to forget about the look of their brows.
For Semi Permanent Eyebrows we recommend a refresher treatment every 12 – 18 months to keep the pigment looking fresh.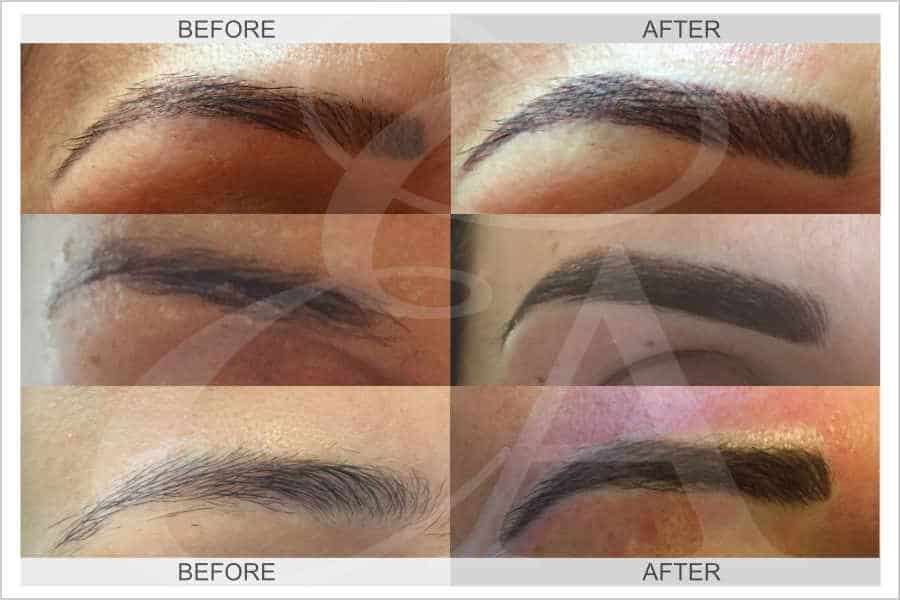 MORE BEFORE & AFTER
Available Treatments
Natural Hairstroke
A very natural look using superfine needles applying individual hair strokes beneath the brow hair. Ideal for people wanting a natural eyebrow look.
The eyebrow shape is built up in layers of hair strokes to look as natural as possible. Varying colours of pigment can also be used to mimic the varying colours of your eyebrow.
This is the most natural Semi Permanent Eyebrows treatment and is a must-have treatment for anyone who would like perfect eyebrows with a natural look.
Dusting
A flush of colour similar to brow powder and shading effect.
A flush of colour is applied using a broad dusting needle to the skin beneath the brow line creating a very soft and natural smudge of colour with subtle definition to give the effect of a brow powder and a soft shading effect.
Dusting for Semi Permanent Eyebrows is one of our most popular Eyebrow treatments.
Block
Heavy filled in eyebrows – Very popular for those wanting a pronounced eyebrow with a block, fully coloured and contoured look.
The Block Semi Permanent Eyebrows technique consists of applying an outline as a line to whatever shape we advise or you request and then shading in the entire area using a circular motion. This fills in the total eyebrow shape until a total block of the area is achieved.
More than any other Semi Permanent Eyebrows technique it is essential you are happy with the shape and look because this look is very difficult to change once applied.
Appointments
Semi Permanent Eyebrows treatment is part of Exclusive Aesthetic's Ultimate Micropigmentation range of services.
All treatments are performed at The London Centre for Aesthetic Surgery (LCAS) in Healthcare City, Dubai.
LCAS is a medical clinic adhering to the highest hygiene and health and safety standards so you really are in the best and safest hands.
Please fill out the contact form below and we will send you treatment information, costs and how to book an appointment.
Please use the Whatsapp button to contact Candice Watson for more detailed information or to answer any questions you have.
Semi Permanent Makeup for Eyebrows
More information
The most popular treatment
Eyebrows are the most popular treatment in Semi Permanent Makeup. Semi Permanent Eyebrows can provide you with the perfect look regardless of your brow hair or brow shape. Here are a few of the benefits:
Add shape and lift to your eyebrows
Define sparse or over-plucked brows – no more eyebrow pencil
Create a natural look framing the face
Restore the appearance eyebrows naturally with our hair stroke technique
Choosing the shape and look
We will advise on the correct shape of your Semi Permanent Eyebrows, however, points to consider when choosing your look are:
choosing pigment colours to replicate individual hairs along the eyebrow – a great solution for sparse, over-plucked or missing brows (eyebrows)
defining an eyebrow shape with colour to create a stronger, thicker effect
lifting the brow using placement, shape and colour to give a refreshed appearance to the face
Who can benefit?
With our natural techniques, everyone can benefit from smudge free always perfect eyebrows. Semi permanent eyebrows are also suitable for:
If eyebrows are sparse or over-plucked
For fair or blond eyebrows and eyebrow pencil wears off quickly
People with sensitive skin or allergies
People with Alopecia
People who have undergone chemotherapy
Looking for removals?
We are able to expertly remove pigment from the delicate areas of the face where semi permanent makeup is applied – the eyebrows, eyelids and lips. Click on the link for more details.
Removals and Corrections
Ultimate Micropigmentation
Ultimate Micropigmentation by Candice Watson of Exclusive Aesthetic, the Micropigmentation Specialists to the Middle East. Candice Watson has near 30 years' experience performing micropigmentation in Dubai, UK and internationally. Candice's skill at micropigmentation is unparalleled and her commitment to being the best ensure her procedures are to the highest industry standards. Candice now offers several micropigmentation training courses in Dubai including Semi Permanent Makeup, Eyebrow Microblading, Medical Micropigmentation and Hair & Scalp Micropigmentation.
APPOINTMENTS – Appointments available Sunday through Thursday 9am to 6pm. For UK Harley Street appointments please fill out the contact form.
LICENSING – All Dubai procedures are performed under the licence of the London Centre for Aesthetic Surgery (LCAS), Healthcare City, Dubai, United Arab Emirates. Training is located at various locations in Dubai.
Testimonials
I wanted a natural look and I had a few patches in my eyebrows that I wanted filling in. Candice applied my eyebrows and I love them! Why would you go anywhere else? Candice has amazing skill at applying eyebrows.
I'd had my eyebrows done before in the UK. As I now live in Dubai and wanted to find a local person who could do. Candice was the obvious choice and my eyebrows are the shape and look that I wanted. I also don't have to apply makeup on my brows every day.