Award-Winning Semi Permanent Makeup
30+ years experience
10+ years in the Middle East
Semi Permanent Makeup by the experts – Perfect procedures for the eyebrows, eyeliner, and lips
Get in touch today using the form below or contact Candice Watson using the WhatsApp button!
Semi Permanent Makeup
by award-winning Candice Watson and Exclusive Aesthetic
Candice and Exclusive Aesthetic look forward to providing you with the best semi permanent makeup treatments available in the Middle East.
Perfect Makeup
Lasting up to 3 years
What is Semi Permanent Makeup?
Semi Permanent Makeup uses a process called micropigmentation to implant pigments in the skin to enhance your natural beauty.
We expertly use specialist machines and equipment to insert pigment into the eyebrows, eyelids and lips.
Treatments include eyebrow enhancement, eyeliner top and bottom, eyelash enhancement, lip liner, lip blush and full lip colour.
All semi permanent makeup treatments consist of 2 to 3 applications depending on the treatment area. Multiple treatments are required so the pigment implants correctly ensuring semi permanent makeup lasts for years and not months.
Semi permanent makeup does not smudge or run and is ideal for women (and men) wanting to look their best regardless of the heat or humidity of Dubai and the Middle East.
Perfect Eyebrows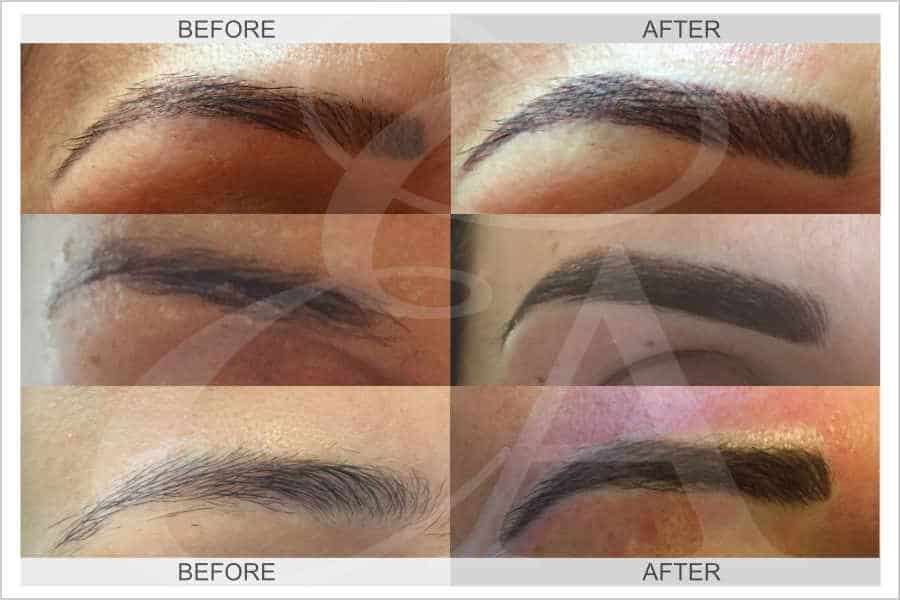 Eyebrow Enhancement
The time saved not having to pencil every day is worth the treatment cost alone!
Our eyebrow treatments are very popular and perfect for anyone who requires emphasis of the brows. If you have no brow hair or sparse brows due to over-plucking the difference balanced brows can make is amazing.
Natural Hairstoke and Dusting looks available.
Perfect Eyeliner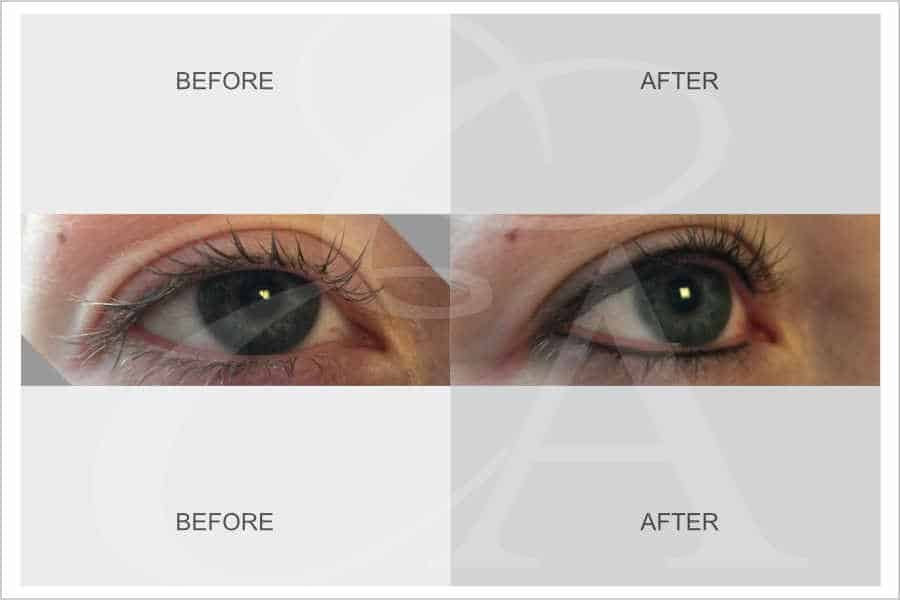 Eyeliner
Make the most of your eyes with our Semi Permanent Eyeliner.
Several looks of eyeliner are available from subtle to dramatic. The pigment is applied to the top or bottom lid and can greatly enhance the appearance of the eyes.
All are smudge-free and always perfect.
Eyelash Enhancement
We call Eyelash Enhancement an introduction to semi permanent makeup. The pigment is applied to the tiny gaps between the lash roots creating a solid thin lash line. A very subtle way to emphasise the eyes.
Perfect Lips
Lip Contour Line
Redefine the shape of your lips!
Over time lips lose their shape and definition. We can redefine and shape by carefully applying a contoured line sympathetic to your natural lip line. All colours and several looks available from natural to bold.
Full Lip Colour
For a truly subtle and beautiful cosmetic effect. Semi permanent makeup is an excellent way of enhancing the shape and colour of your lips. With the highly skilled application, lips can look fuller and more shapely. Redefine your lips in only one treatment!
Lip Blush
Our Lip Blush semi permanent makeup treatment is ideal if a more subtle colour is required. The process is the same as Lip Colour, however, more subtle pigments are applied using a dusting needle. This gives more of a wash of colour to the lips.
Lip tattoos take between 3 and 10 days to heal depending on the size of the treatment and your skins natural healing process.
You do not need to take time off following the procedure. Any swelling or slight pain will disappear within a few hours.
The colour intensity will fade up to 40-60% after the first treatment which is why we recommend a top up no less than 4 weeks later.
The treatment is not painful. Most of our clients reporting only minor discomfort.
A full consultation is performed before treatment.
Treatments are performed by Candice Watson, International Micropigmentation Specialist.
For Lips Treatments – Clients who have suffered from cold sores (Herpes virus – Herpes simplex) can experience symptoms of the infection after the treatment to the lips. **Anti-herpes medication is available over the counter or on prescription and should be taken prior to lip treatments as it has been shown to prevent or minimise such outbreaks.
Who can benefit?
With our range of different looks, everyone can benefit from smudge free semi permanent lip makeup. Semi permanent lips are suitable for:
Anyone with unsteady hands making applying makeup difficult
Anyone short-sighted
For people on the go with no time for applying makeup but feel more confident wearing makeup.
Anyone who is allergic to makeup or have a sensitivity to makeup.
Best Machines and Pigments
Exclusive Aesthetic use professional micropigmentation machines and equipment to implant non-permanent pigment into the epidermis layer (upper layer) of the skin. The pigment depth is critical and directly relates to the amount of time the pigment will stay in the skin. Too deep and chances are you will get a permanent tattoo, too shallow and the pigment will only last a few months.
The correct Micropigmentation systems allow the specialist to adjust the depth on the needle. This is one of the reasons why a highly trained specialist should be the one you choose to perform a semi permanent makeup treatment. Implanting pigments at an exact depth into the epidermis allows the pigment to be naturally expelled from the skin over 2 to 3 years hence the term "semi permanent".
Industry Expert Candice Watson
Candice Watson
Candice Watson has 30+ years of experience as a micropigmentation specialist performing treatments and training to the highest level around the world.
30+ Years Experience
Candice Watson is one of the best in the world of micropigmentation offering industry-leading procedures and training in Dubai and the Middle East.
UAE Business Awards Winner
Award Winners
We are proud to announce Exclusive Aesthetic are UAE Business Award winners for two consecutive years.
Our UAE awards include Best Specialist, Best Trainers and Best Scalp.
I had lip liner and full lip colour with Candice. Now my lips look amazing!
I did some research and Candice was the best choice. I had full lip colour and Candice reshaped my lips too. I'm very happy with the result.
Useful information
Ultimate Micropigmentation Services
Training courses
Candice now offers several micropigmentation training courses in Dubai including Semi Permanent Makeup, Eyebrow Microblading, Medical Micropigmentation and Hair & Scalp Micropigmentation.
Training is provided through our sister company Exclusive Aesthetics Technical and Occupational Skills Training at various locations in Dubai and around the Middle East.
Appointments
All treatments are performed at The London Centre for Aesthetic Surgery (LCAS) in Healthcare City, Dubai.
LCAS is a medical clinic adhering to the highest hygiene and health and safety standards so you really are in the best and safest hands.
Dubai appointments available Sunday through Thursday 9am to 6pm at the London Centre for Aesthetic Surgery (LCAS), Healthcare City, Dubai, United Arab Emirates. For UK Harley Street appointments please contact us.
Licensing
All Dubai procedures are performed under the licence of the London Centre for Aesthetic Surgery (LCAS), Healthcare City, Dubai, United Arab Emirates and conform to the highest medical standards.
Looking for semi permanent makeup removals or corrections?