Semi Permanent Eyeliner
by award-winning Candice Watson and Exclusive Aesthetic
Smudge-free Eyeliner with Semi Permanent Makeup
Semi Permanent Eyeliner uses micropigmentation to implant pigment just above or below the lash line.

When applied properly Semi Permanent Eyeliner can make eyes look bigger and more noticeable and is smudge free and always perfect. 

Semi permanent eyeliner gives the eyes greater definition and even the slightest line can achieve a subtle improvement.

Pharmaceutical grade pigment is applied as a fine line through either the top, bottom or both sets of lashes.  You choose the pigment colour and if you prefer a heavier makeup look for evenings and occasions and you can still apply your party look eyeliner over the top.

Whether you would like a full makeup effect or a soft natural line to enhance your eye colour, semi permanent eyeliner offers you the full spectrum of choice.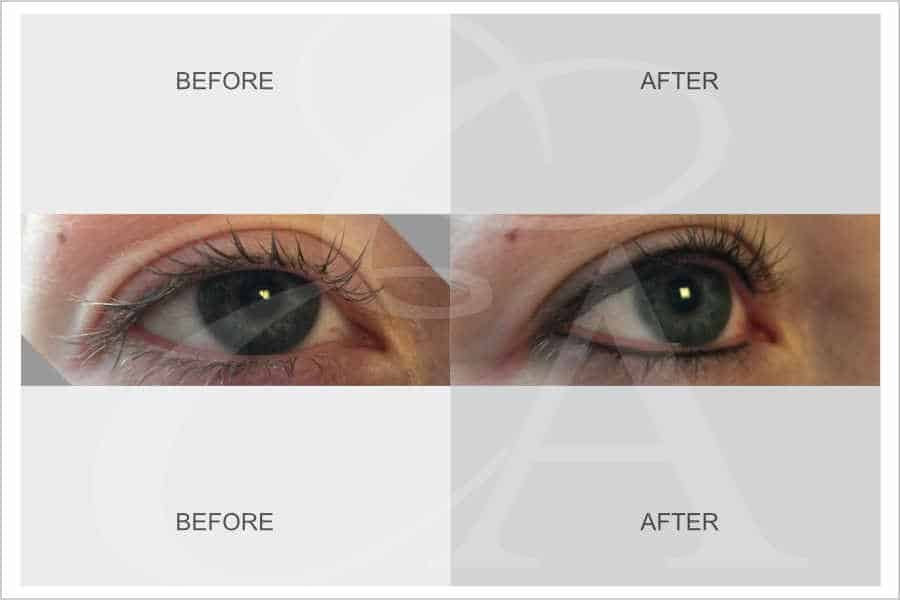 MORE BEFORE & AFTER
Available Treatments
Natural Eyeliner
You choose the pigment colour which is expertly applied as a fine line through the lash line.
Either the top lash line, bottom lash line or both sets of lashes – top and bottom.
Semi permanent eyeliner will give your eyes greater definition and even the slightest line can achieve a subtle improvement to the look of your eyes.
Latino Eyeliner
A thick line is applied to the upper lid and is either a standalone treatment or can be emphasised by additionally having an amount of the lower lid tattooed too.
Latino Eyeliner is a very popular treatment achieving a thick bold Latino look, similar to that of Sophia Loren.
This is a great look for those with large eyes wanting a very sexy look.
Two Tone Eyeliner
Two Tone Eyeliner consists of two different coloured but complementary lines of eyeliner.
A dark (usually black) line is applied just over the lash line and then a different colour directly above is applied.
Popular colours are blue, green and violet but we can mix any colour to suit your requirements.
Two-tone eyeliner really is the most striking of looks!
Appointments
Semi Permanent Eyeliner treatments are part of Exclusive Aesthetic's Ultimate Micropigmentation range of services.
All treatments are performed at The London Centre for Aesthetic Surgery (LCAS) in Healthcare City, Dubai.
LCAS is a medical clinic adhering to the highest hygiene and health and safety standards so you really are in the best and safest hands.
Please fill out the contact form below and we will send you treatment information, costs and how to book an appointment.
Please use the Whatsapp button to contact Candice Watson for more detailed information or to answer any questions you have.
Looking for removals?
We are able to expertly remove pigment from the delicate areas of the face where semi permanent makeup is applied – the eyebrows, eyelids and lips. Click on the link for more details.
Removals and Corrections
Ultimate Micropigmentation
Ultimate Micropigmentation by Candice Watson of Exclusive Aesthetic, the Micropigmentation Specialists to the Middle East. Candice Watson has near 30 years' experience performing micropigmentation in Dubai, UK and internationally. Candice's skill at micropigmentation is unparalleled and her commitment to being the best ensure her procedures are to the highest industry standards. Candice now offers several micropigmentation training courses in Dubai including Semi Permanent Makeup, Eyebrow Microblading, Medical Micropigmentation and Hair & Scalp Micropigmentation.
APPOINTMENTS – Appointments available Sunday through Thursday 9am to 6pm. For UK Harley Street appointments please fill out the contact form.
LICENSING – All Dubai procedures are performed under the licence of the London Centre for Aesthetic Surgery (LCAS), Healthcare City, Dubai, United Arab Emirates. Training is located at various locations in Dubai.
Testimonials
I found Candice online and she obviously has many years experience and in the Middle East too! My eyeliner looks amazing and I'm very happy with the service I received from Candice at LCAS.
I went for eyeliner top and bottom. Candice managed to apply a very thin line to my bottom eyelid and a thicker line to my top eyelid. My eyes look really good and I don't have to apply eyeliner to my eyes every morning. Thank you Candice!