Permanent Makeup Removal by the Experts
with 35+ Years of Experience
We Remove and Correct Poorly Performed SPMU Treatments
Permanent Makeup Removal Dubai – Our permanent makeup removal and correction system extracts pigment very gently and naturally.
The slideshow below shows a client who opted for a cheaper treatment. As you can see, the eyebrows were applied in the wrong place and had multiple brow lines tattooed. Also, as can be seen, inferior pigments were applied that turned green and blue over time.
We performed permanent makeup removal over several sessions. We reapplied the eyebrows in the correct position and shape in the final two sessions. The client was thrilled with the results.
Contact us today to discuss permanent makeup removal using the contact form. Or ask Candice Watson a question using the WhatsApp button (we hope to reply within 48 hours).
Why Our Permanent Makeup Removal System?
Safer and superior results – Remove and correct any pigment from the delicate areas of the face.
Permanent Makeup Removal Dubai – We are international micropigmentation specialists based in Dubai with over 35 years of experience. We perform and teach micropigmentation techniques to the highest industry standards.
All Permanent Makeup Removal and correction treatments meet Dubai Municipality and Ministry of Health regulations. We use the best machines and equipment to ensure our treatments are to the highest industry standards.
Very effective
Gently removes pigment with the best industry results.
Natural method
Expel pigment naturally from the skin over several weeks.
Best equipment
We only use the best and safest equipment available.
35+ years of experience
We are expert international Micropigmentation specialists with 35+ years of international experience.
Permanent Makeup Removal Dubai – 100% pigment removal
We see excellent results from this procedure. In most cases, we see 100% removal of a badly performed permanent makeup or semi permanent makeup procedure.
Permanent Makeup Removal Dubai requires treatments spaced 4 to 8 weeks apart. This allows the treated area to fully heal between sessions.
Safe for delicate areas on the face
Permanent makeup removal is essential for anyone unhappy with their permanent makeup treatment.
Other pigments that turn blue or green
People contact us in a desperate state, not knowing what to do with their new eyebrows or lip liner that has turned green or blue (pigment turning blue and green usually points to cheaper body tattoo inks used). This often happens when the untrained perform treatments with a body art tattoo machine and cheaper pigments. This fuels the horror stories we have all heard about.
We can remove and correct
Candice Watson and Exclusive Aesthetic are experts at removing pigment from a poorly performed semi permanent makeup treatment. We can also partly remove and correct the shape, positioning and alignment to achieve the look you originally wanted.
Aftercare
Permanent makeup removal sessions cause irritation and swelling in the treatment area. There may also be redness; however, this will subside very quickly. Normal activities may resume immediately following the procedure.
Aftercare instructions must be adhered to to ensure the best results.
Permanent Makeup Removal and Correction by one of the Middle East's Leading Medical Micropigmentation Experts
Candice Watson is one of Dubai's most established and trusted medical micropigmentation experts, with happy clients throughout the Middle East.
With over 35+ years of experience performing micropigmentation procedures to the highest industry standards.
Candice has won numerous awards for her treatments and is a world leader in all aspects of micropigmentation.
Qualifications
International Health and Beauty Certification
Dawn Cragg MBE Teaching and CPD Certification
John Hashy Masters Diploma
Finishing Touches Medical Micropigmentation Master Class
Moshe Allul Diploma for HFS Scalp Micropigmentation
LCN Germany SPMU Diploma
Tunde Mehn Advanced Skills Diploma
Licensed to Practice in Dubai Healthcare City
Fellowships & Memberships
SPCP (Society of Permanent Cosmetic Professionals)
IHBC (International Health and Beauty Council)
BABTAC (British Association of Beauty Therapists and Cosmetologists)
Licensed to train & perform treatments
Licensed to perform treatments and offer training courses in Dubai, the UK and internationally.
UAE Business Awards Winner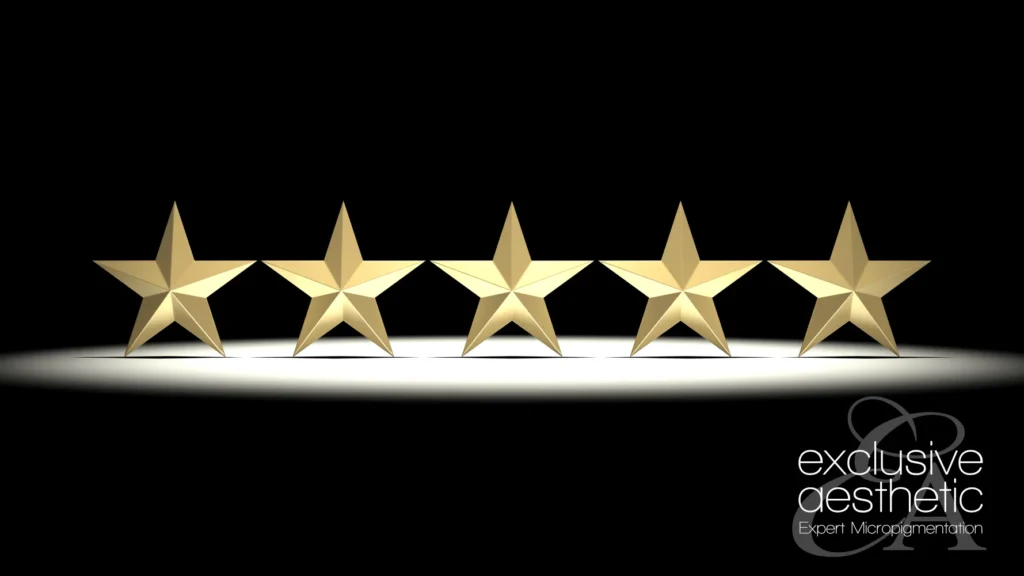 We proudly announce Exclusive Aesthetic are UAE Business Award winners for two consecutive years.
Our UAE awards include Best Specialist, Best Trainers and Best Scalp.
Information
Treatment Appointments
Dubai appointments are available Saturday to Wednesday, 9 am to 6 pm C37, Healthcare City, Dubai, United Arab Emirates.
Treatment Licensing
All Dubai procedures are performed under the DHA licence and conform to the highest medical standards.
Looking for a training course?
Several micropigmentation training courses are available. These include Semi Permanent Makeup, Advanced Eyebrow and Lip techniques, Medical Micropigmentation and Hair and Scalp Micropigmentation. See our range of micropigmentation training courses HERE.
Training is provided by our sister company, Exclusive Aesthetics Technical and Occupational Skills Training.
Choosing Between Rejuvi Removal and Laser Removals
Know the facts about both to make an informed decision.
Rejuvi method of pigment removal
The Rejuvi pigment and tattoo removal method has existed for over 25 years. Specialists quickly adopted it as the preferred removal method for semi permanent makeup, body art tattoos and medical micropigmentation procedures.
The removal process uses pharmaceutical micropigmentation machines and needles to implant the Rejuvi cream. Once implanted, the Rejuvi cream attaches and captures tattoo pigment particles like a magnet and mixes itself with the pigment. This pigment and cream mixture is naturally expelled from the skin like any foreign body, forming a hard crust. This crust falls away over several weeks, taking the tattoo pigment contained within the cream with it.
The treated area will appear red and lighter than the surrounding skin. This new skin requires time to acclimatise and adjust its natural state, which can take a few months.
We believe Rejuvi is the best and most effective method of permanent makeup removal. There is a minimal risk of scarring, under 4%. Adhering to aftercare instructions will minimise any risk of scarring. Please note laser tattoo removal has a 46% risk of scarring.
Rejuvi's tattoo removal method is NOT a home method. Rejuvi MUST be performed by a specially trained professional qualified in permanent makeup removal and the Rejuvi method.
Laser tattoo removal
If you are tempted or advised to have laser removals for permanent makeup, please think again! We see many clients who opted for laser removal that has pushed pigment deeper into the skin. It is well-known that laser can cause pigment migration instead of removal, which often looks far worse than initially. In rare cases, laser tattoo removal pushes pigment so deep that tattoo removal is impossible, even with our system.
Contact us to discuss our removals process
If you are considering laser removal, please contact us so we can give you essential information. Knowing the facts and making an informed decision is far better than being reminded daily of a wrong decision.
Links To Our Services