Stretch Mark Treatment by the Experts
with 35+ Years of Experience
Achieving Natural Results for Stretch Marks
Stretch Mark Treatment Dubai – MCA (Multitripanic Collagen Actuation) can achieve excellent results on stretch marks for both men and women. MCA causes the skin's natural defence system to heal by promoting and producing collagen naturally. MCA (Multitripanic Collagen Actuation) also stimulate the skin's melanin (pigmentation in the skin) to, in most cases, restore natural pigmentation once the area has fully healed.
If more pigment is required to blend the area of stretch marks to the surrounding skin tone, then we recommend a skin camouflage treatment course if areas do not fully pigment.
Contact us today using the contact form, or ask Candice Watson a question using the WhatsApp button (we hope to reply within 48 hours).
What is Medical Micropigmentation?
Medical Micropigmentation encompasses a variety of treatments to correct and conceal imperfections and damage to the skin using the process of micropigmentation, where we implant non-permanent pigments in the epidermis (the outer layers of the skin). Treatments can last for 2 to 3 years.
For clients in the Middle East, we recommend a refresher appointment every 12 to 18 months to keep the pigment looking fresh and to make any adjustments. Hence, the results match any changes in the surrounding skin tone and colour.
We make every effort to ensure our treatments are as comfortable as possible. We only use the best micropigmentation machines finely tuned to cause the minimum trauma to the skin. Less trauma means our treatments are as pain-free as possible.
Our medical micropigmentation procedures are performed by Candice Watson, an international micropigmentation expert with over 35 years of experience.
All medical micropigmentation procedures are performed to the strictest medical standards and meet the Dubai Municipality and the Ministry of Health regulations.
A few Benefits of Micropigmentation for Stretch Marks
Superior results
We use the best equipment, needles and pigments to achieve superior results.
Great for men and women
Medical Micropigmentation treatments are available for men and women of any age.
Effective treatments
Variety of procedures to correct and conceal imperfections or damage to the skin.
Long-lasting results
Following the correct aftercare procedure, Micropigmentation can last two to three years.
Stretch Mark Treatment With One of the Middle East's Leading Medical Micropigmentation Experts
Candice Watson is one of Dubai's most established and trusted medical micropigmentation experts, with a happy client list spanning the entire Middle East.
Candice Watson has over 35+ years of experience performing micropigmentation procedures to the highest industry standards.
Candice has won numerous awards for her medical micropigmentation treatments throughout her career and continues to be a world leader in all aspects of micropigmentation.
Qualifications
International Health and Beauty Certification
Dawn Cragg MBE Teaching and CPD Certification
John Hashy Masters Diploma
Finishing Touches Medical Micropigmentation Master Class
Moshe Allul Diploma for HFS Scalp Micropigmentation
LCN Germany SPMU Diploma
Tunde Mehn Advanced Skills Diploma
Licensed to Practice in Dubai Healthcare City
Fellowships & Memberships
SPCP (Society of Permanent Cosmetic Professionals)
IHBC (International Health and Beauty Council)
BABTAC (British Association of Beauty Therapists and Cosmetologists)
Licensed to train & perform treatments
Licensed to perform treatments and offer training courses in Dubai, the UK and internationally.
UAE Business Award Winner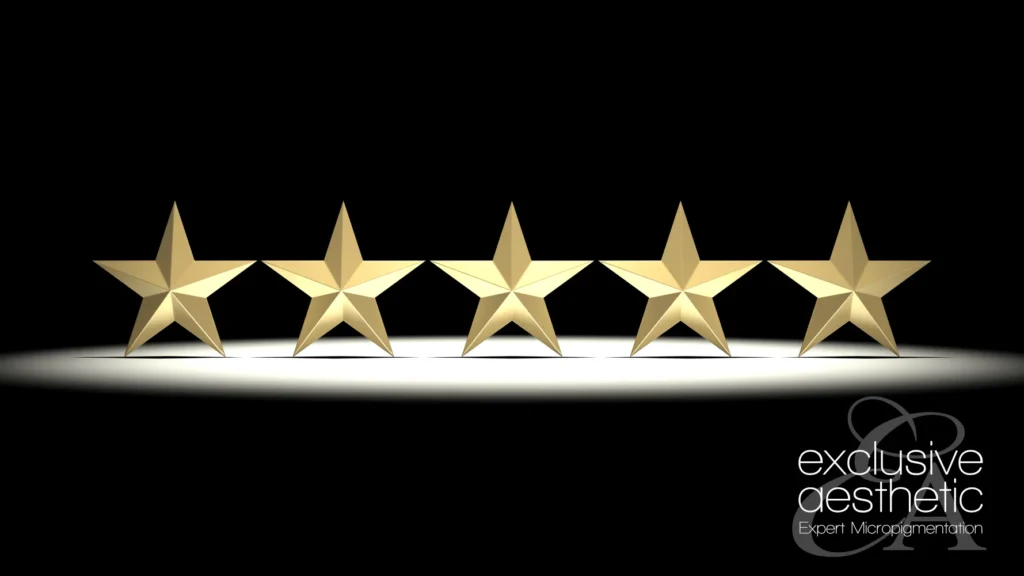 We proudly announce Exclusive Aesthetic are UAE Business Award winners for two consecutive years.
Our UAE awards include Best Specialist, Best Trainers and Best Scalp.
What Our Clients Say
I approached Candice after searching for a treatment for stretch marks on Google, and I am glad I did. I required 3 treatment sessions, and my stretchmarks are very difficult to see.
Mary, DUBAI
I am so happy Candice performed MCA on my stretch marks. Thank you, Candice!
Clare, DUBAI
Information
Treatment Appointments
Dubai appointments are available Saturday to Wednesday, 9 am to 6 pm C37, Healthcare City, Dubai, United Arab Emirates.
Treatment Licensing
All Dubai procedures are performed under the DHA licence at C37, Healthcare City, Dubai, United Arab Emirates, and conform to the highest medical standards.
Looking for a training course?
Candice now offers several micropigmentation training courses in Dubai, including Semi Permanent Makeup, Advanced Eyebrow and Lip techniques, Medical Micropigmentation and Hair & Scalp Micropigmentation. See our range of micropigmentation training courses HERE.
Our sister company, Exclusive Aesthetics Technical and Occupational Skills Training, provides training at various locations in Dubai and around the Middle East.
Links To Our Services