Semi Permanent Lips Dubai
by the Experts with 35+ years of experience
Perfect Lip Makeup Lasting Up To 3 Years
Semi Permanent Lips – We implant pigment into the lips to perfect and enhance the lip line and colour. Treatments last for up to 3 years and are always perfect and smudge-free.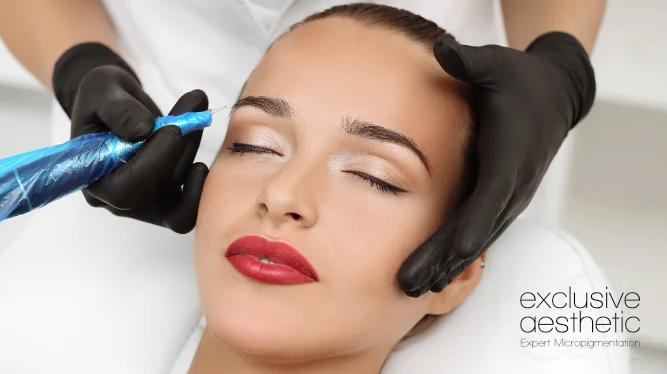 Contact us today using the contact form, or ask Candice Watson a question using the WhatsApp button (we hope to reply within 48 hours).
Perfect Lips with Semi Permanent Makeup
Beautiful, full, deep-coloured lips can make us feel and appear more attractive and confident. Many of our clients choose Semi Permanent Lips makeup (lip tattooing) either because they are unhappy with the colour of their lips, need to correct the symmetry of an uneven lip line, or desire a fuller look to the lips. Some clients are simply too busy and want to spend less time in front of the mirror doing their makeup.
Whatever the reason, Candice Watson & Exclusive Aesthetic can help you achieve your perfect lip look by enhancing your natural beauty with our expertly delivered semi permanent lips procedures.
Whether you are looking for a fuller, more plump appearance, correction of your lip colour, or even out of your lip line, we can help you achieve the lips you have always dreamt of.
Our lip procedures last for up to 3 years; however, we recommend a refresher treatment every 12 to 18 months to keep the pigment looking fresh.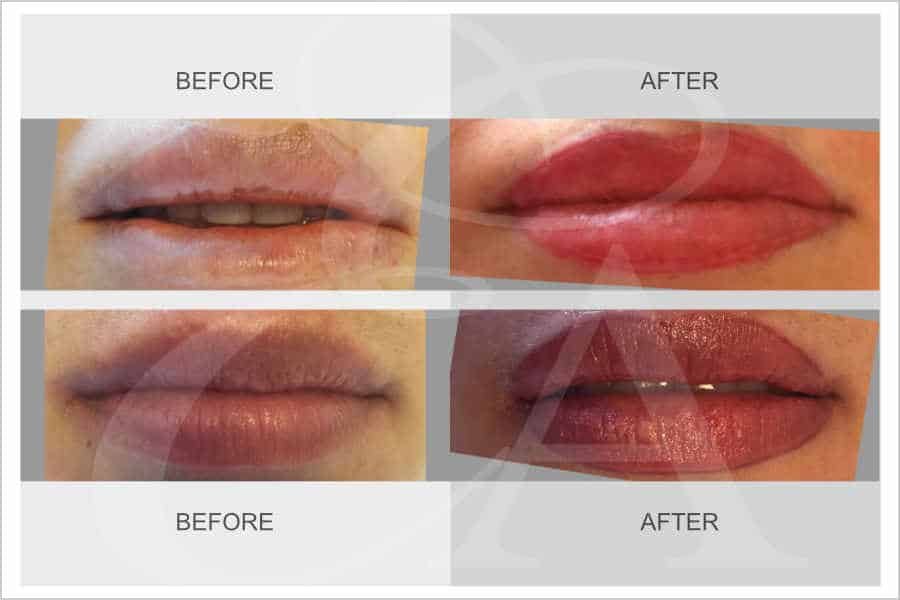 SPMU Lip Treatments Available
Lip Line – Define & Reshape
Our expertly applied lip contour treatments will add shape and definition to your lip line. We apply lip line with a very natural or more vibrant lip colour. Lip line can also correct irregularities in your lip shape, and the skilful use of colour can give you an overall plumper appearance to your lips.
Full Lip Colour – Vivid or Subtle
Achieve fuller-looking lips with semi permanent makeup! As we age, our lips shrink and can lose their natural shape. Our Full Lip Colour treatment can help to plump out the lips using cleverly chosen colours and specific techniques to give the impression of a fuller mouth.
Lip Blush – Subtle and Very Natural
Our Lip Blush semi permanent makeup treatment is ideal for people wanting a more subtle colour to the lips. The process is the same as Lip Colour; however, we apply more subtle pigments using a dusting needle. This technique achieves more of a wash of natural colour.
Have Fantastic-Looking Lips With a Fuller, More Vivacious Look in a Little Over 90 Minutes!
3D Ultimate Lips – you can look your best every day!
Get the latest must-have semi permanent makeup lips treatment – 3D Ultimate Lips by Candice Watson & Exclusive Aesthetic.
3D Ultimate Lips combines our award-winning and most popular lip treatments. We apply a combination of lip liner, shading and blending with different shades of colour to give your lips a 3D effect. This mix of techniques makes lips look fuller and perfectly symmetrical while achieving a deeper natural colour.
Important Information About Our SPMU Lip Treatments
Below is a list of points we feel are necessary to inform you correctly to help you make the right decision regarding semi permanent makeup for lips:
Lip tattoos take between 3 and 10 days to heal, depending on the size of the treatment and your skin's natural healing process.
You need not take time off work following the procedure. Any swelling or slight pain will disappear within a few hours.
The colour intensity will fade to 40-60% after the first treatment, so we recommend a top-up no less than four weeks later.
The treatment is not painful; most clients report only minor discomfort.
A full consultation is performed before treatment. Candice Watson, International Micropigmentation Expert, performs all treatments.
Clients who have suffered from cold sores (Herpes virus – Herpes simplex) can experience symptoms of the infection after treating the lips. Anti-herpes medication is available over the counter or on prescription and has been shown to prevent or minimize such outbreaks. Please take the necessary precautions before and after your treatment.
After the procedure, the Lips may appear flaky/crusty for up to one week.
You may require 2 to 3 sessions to complete your lip treatment. Up to 2 top-up sessions (original plus 2 top-ups) are included in our price, so there are no hidden extra costs!
Please note if you suffer from cold sores, you should take a course of anti-virals before a lip treatment.
Who Can Benefit From SPMU Lips?
With our range of different looks, everyone can benefit from smudge-free semi permanent lips makeup. Semi permanent lips are suitable for:
Anyone with unsteady hands making applying makeup difficult
Anyone short-sighted
For people on the go with no time for applying makeup but who feel more confident wearing makeup
Anyone who is allergic to makeup or has a sensitivity to makeup.
Semi Permanent Makeup Lip Treatments by One of the Middle East's Leading Medical Micropigmentation Experts
Candice Watson is one of Dubai's most established and trusted medical micropigmentation experts, with a happy client list spanning the entire Middle East.
Candice Watson has over 35+ years of experience performing micropigmentation procedures to the highest industry standards.
Candice has won numerous awards for her medical micropigmentation treatments throughout her career and continues to be a world leader in all aspects of micropigmentation.
Qualifications
International Health and Beauty Certification
Dawn Cragg MBE Teaching and CPD Certification
John Hashy Masters Diploma
Finishing Touches Medical Micropigmentation Master Class
Moshe Allul Diploma for HFS Scalp Micropigmentation
LCN Germany SPMU Diploma
Tunde Mehn Advanced Skills Diploma
Licensed to Practice in Dubai Healthcare City
Fellowships & Memberships
SPCP (Society of Permanent Cosmetic Professionals)
IHBC (International Health and Beauty Council)
BABTAC (British Association of Beauty Therapists and Cosmetologists)
Licensed to train & perform treatments
Licensed to perform treatments and offer training courses in Dubai, the UK and internationally.
UAE Business Award Winner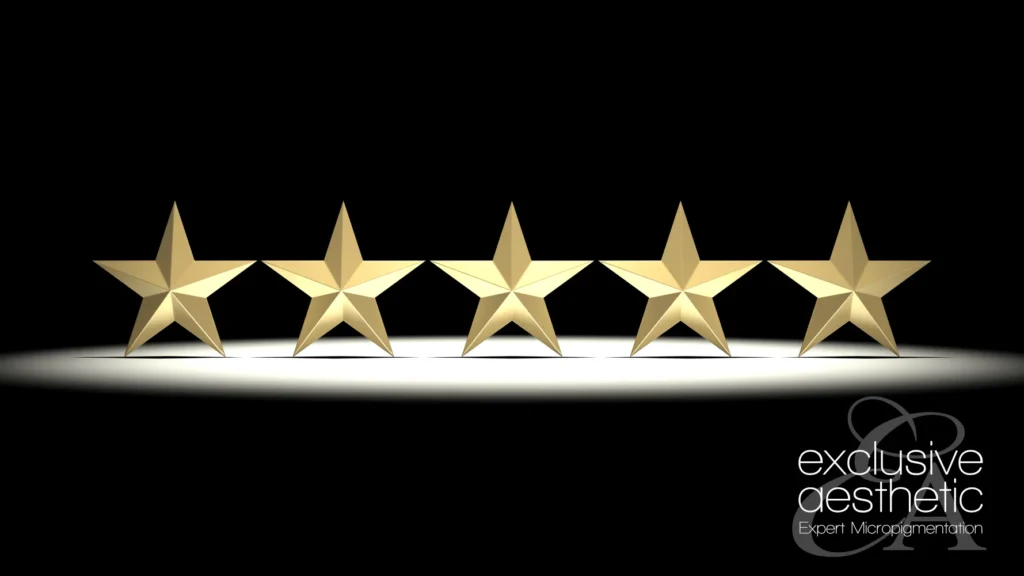 We proudly announce Exclusive Aesthetic are UAE Business Award winners for two consecutive years.
Our UAE awards include Best Specialist, Best Trainers and Best Scalp.
What Our Clients Say
I had lip liner and full lip colour with Candice. Now my lips look amazing!
Amy, Dubai
I did some research, and Candice was the best choice. I had full lip colour, and Candice reshaped my lips too. I'm delighted with the result.
Sarah, Abu Dhabi
Information
Treatment Appointments
Dubai appointments are available Saturday to Wednesday, 9 am to 6 pm C37, Healthcare City, Dubai, United Arab Emirates.
Treatment Licensing
All Dubai procedures are performed under the DHA licence at C37, Healthcare City, Dubai, United Arab Emirates, and conform to the highest medical standards.
Looking for a training course?
Candice now offers several micropigmentation training courses in Dubai, including Semi Permanent Makeup, Advanced Eyebrow and Lip techniques, Medical Micropigmentation and Hair & Scalp Micropigmentation. See our range of micropigmentation training courses HERE.
Our sister company, Exclusive Aesthetics Technical and Occupational Skills Training, provides training at various locations in Dubai and around the Middle East.
Looking for a correction or removal of a poorly performed SPMU treatment?
We can expertly remove pigment from the delicate areas of the face where semi-permanent makeup is applied – the eyebrows, eyelids and lips. Click on the link for more details. REMOVALS AND CORRECTIONS
Links To Our Services