Semi Permanent Lips
by award-winning Candice Watson and Exclusive Aesthetic
Perfect Lips with Semi Permanent Makeup
It is said that the lips are the gateway to our emotions and expressions.
Beautiful, full, deep coloured lips can make us feel and appear more attractive and more confident.
Many of our clients choose Semi Permanent Lips makeup (lip tattooing) either because they are unhappy with the colour of their lips, need to correct the symmetry of an uneven lip line, or desire a fuller look to the lips. Some clients are simply too busy and just want to spend less time in front of the mirror doing their makeup.
Whatever the reason Candice Watson & Exclusive Aesthetic can help you achieve your perfect lip look by enhancing your natural beauty with our expertly delivered semi permanent lips procedures.
Whether you are looking for a fuller more plump appearance, correction of your lip colour or to simply even out your lip line we can help you achieve the lips you have always dreamed of.
For Semi Permanent Lips, we recommend a refresher treatment every 12 – 18 months to keep the pigment looking fresh.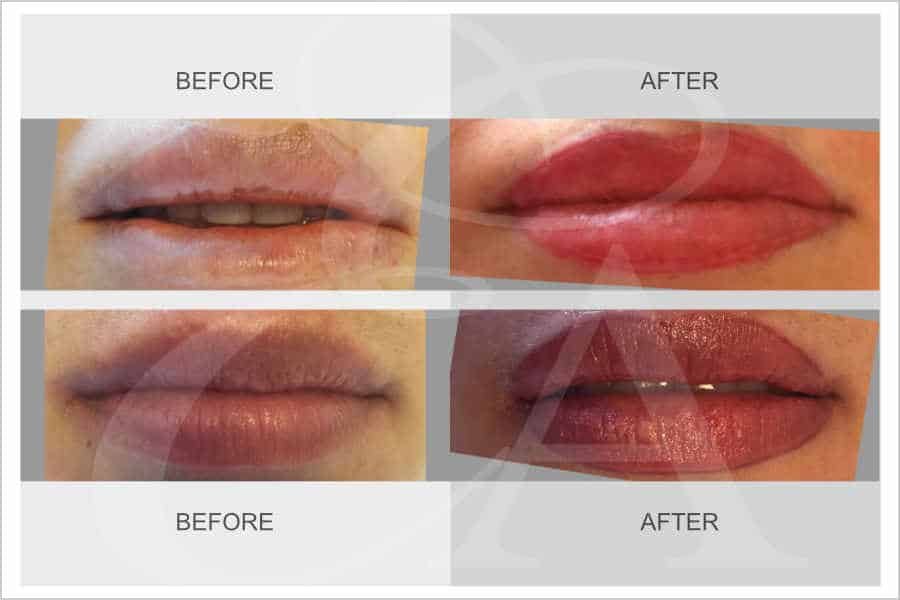 MORE BEFORE & AFTER
Available Treatments
Appointments
All treatments are performed at The London Centre for Aesthetic Surgery (LCAS) in Healthcare City, Dubai.
LCAS is a medical clinic adhering to the highest hygiene and health and safety standards so you really are in the best and safest hands.
Please fill out the contact form below and we will send you treatment information, costs and how to book an appointment.
Please use the Whatsapp button to contact Candice Watson for more detailed information or to answer any questions you have.
More information
Looking for semi permanent makeup removals or corrections?
CLICK HERE
Testimonials
I had lip liner and full lip colour with Candice. Now my lips look amazing!
I did some research and Candice was the best choice. I had full lip colour and Candice reshaped my lips too. I'm very happy with the result.